Something to tease your taste buds...
"Ever wondered how to make that perfect steak, Well, Mark Southon shows you how"
Cooking with Chef Teresamisu
With the help of Chef Teresamisu we have created an easy recipe booklet with healthy, nourishing recipes using Olive Black. Teresamisu is a certified raw chef that loves everything that nourishes the body, mind and soul. She believes in enjoying beautiful food that is closest to their natural state. Now in her first cooking show and cookbook in Slovenia, she shares her favorite recipes and tips for keeping healthy and feeling great.
Here you will discover wholesome nutritious recipes using Olive Black and natural ingredients, fresh, in-season produce, with the occasional sweet treat.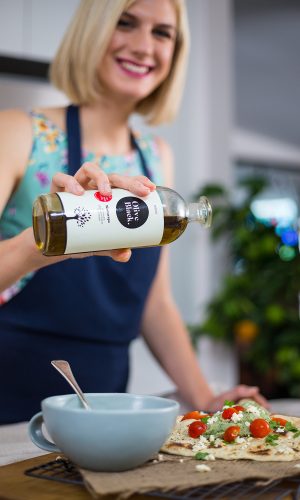 My food is passionate, delicious and always healthy, with minimal effort or stress. Simple, meaningful and beautiful food, yet low fuss. I never count calories, because when you follow a wholesome diet you are putting your body in a perfect balance. When people ask if I'm
vegetarian, vegan or paleo? I say "I am a person who eats!" Rather than using new-age diet labels, I stick to a simple philosophy of whole, fresh, seasonal ingredients that awaken positive energy and put a smile on your face.
Just a few things before we get started...
The following recipes can be beautifully customized to any season. Don't be afraid to change it up a bit, get funky with the dressings, add extra ingredients and change them with whatever you have in season! All of the savory recipes can include your choice of organic, free range meats or sustainably caught fish. Any leftovers can be kept in the fridge.
GF = Gluten Free
DF = Dairy Free
VEG = Vegan
V = Vegetarian
Tbsp = tablespoon
tsp = teaspoon
g = grams
ml = milliliters
Where possible, use free-range, pasture or grass-fed, organic options. Organic fruit and vegetables are grown without the use of chemical fertilizers, pesticides and genetically modified organisms that have been proven to have harmful effects on our health.
If you upload a photo of your finished recipe, be sure to tag us in the post. We would love to see what you create!
@oliveblack #oliveblack
Okay, ready? Let's do this!